Can you tell we have had a busy summer?  We haven't had a chance to even update the website!
Peach season is over and although the quality of the crop was good,  we certainly lacked the quantity thanks to Mother Nature's icy touch last spring.  We had a few, though, to make these tasty beverages and we are sharing with you our coveted recipe.  Our recipe for Ivy Hill Farm Fuzzy Navels has been in development for nearly a decade.  Each year we try to improve on the recipe but we honestly don't think we need to tweak it anymore.  We had a family meeting to decide if we should release this treasured recipe or to keep it a family secret.  After a unanimous vote the family is sharing our recipe with you.  Enjoy this sweet glass of fuzzy peach velvet deliciousness…until next season!!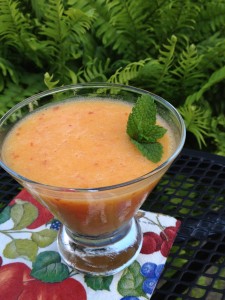 Ivy Hill Farm Fuzzy Navels
3 ripe, pitted peaches (peeled or unpeeled)
2 Tablespoons frozen orange juice concentrate, undiluted
1/4 cup sugar (or less, to taste)
1/4 cup peach schnapps
1/2 cup light rum
ice
Place all ingredients in a blender and give it a whirl until smooth and velvety.  To make a non-alcoholic version of this drink, substitute Sprite or 7-Up for liquid ingredients.  Enjoy!!