All good things come to an end and so goes summer!  Today is the first day of autumn and it officially begins at 4:44 pm today.
We are bringing in the season in style with the Blessing of the Apple Crop and First Cider Toast Party.  Join us today, September 22, from 12:30pm – 2:30 pm for our celebration.
There is a little crispness in the air indicating the change of seasons and it's Football Season too!  Enjoy the games with this easy to prepare and delicious combination –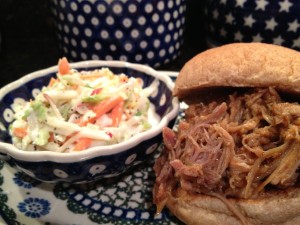 Apple Butter BBQ Pulled Pork and Honeycrisp Cole Slaw
Easy Slow Cooker Pulled Pork

2 medium yellow onion, thinly sliced
4 garlic cloves, thinly sliced
1 cup chicken stock or low-sodium chicken broth
1 tablespoon packed dark brown sugar
1 tablespoon chili powder
1 tablespoon kosher salt
1/2 teaspoon ground cumin
1/4 teaspoon ground cinnamon
1 (4.5 to 5 lb) boneless or bone-in pork shoulder, twine or netting removed
2 cups Ivy Hill Farm Apple Butter Barbecue Sauce
Place the onions and garlic in an even layer in the slow cooker and pour in the stock or broth.  Combine the sugar, chili powder, measured salt, cumin, and cinnamon in a small bowl.  Pat the pork dry with paper towels.  Rub the spice mixture all over the pork and place the meat on top of the onions and garlic.  Cover and cook until the pork is fork tender, about 6-8 hours on high or 8-10 hours on low.
Turn off the slow cooker and remove the pork to a cutting board.  Set a fine-mesh strainer over a medium heatproof bowl.  Pour the onion mixture from the slow cooker through the strainer and return the solids to the slow cooker.  Set the strained liquid aside.
If the pork has a bone, remove and discard it.  Using 2 forks, shred the meat into bite-sized pieces, discarding any large pieces of fat.  Return the shredded meat to the slow cooker, add Ivy Hill Farm Apple Butter Barbecue Sauce and mix to combine.    Season as needed.  Serve on a bun with additional barbecue sauce on the side.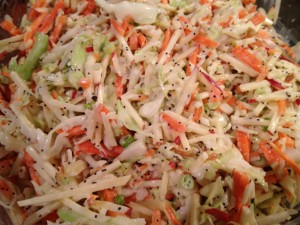 Honeycrisp Cole Slaw
adapted from Wolfgang Puck's Apple Coleslaw @ foodnetwork.com
1/4 cup apple cider vinegar
1 cup mayonnaise
1-2 tablespoons poppy seeds
1/3 cup honey
1 1/2 teaspoons kosher salt
1 teaspoon freshly ground black pepper
1 medium cabbage, cored, finely shredded ( we used a bag of preshredded, packaged coleslaw mix)
2 large carrots, peeled, julienned ( again, a bag of preshredded, packaged carrots)
1 bunch green onions, thinly sliced
4 Honeycrisp apples, peeled, cored and julienned (Fuji works too, see note at end of recipe about cutting apples for this recipe)
Prepare the Poppy Seed Dressing – In a medium bowl, combine all the ingredients together until well blended.  Set aside.
Prepare the Cole Slaw – In a large bowl, combine the cabbage, carrots, green onion and apples.  Pour in the reserved dressing and toss until well blended.  Refrigerate at least 1 hour before serving, mixing the salad at least once to evenly distribute the dressing.
Notes:  We used a mandoline slicer (V-slicer) to julienne the apples quickly and easily, saving lots of time.  You can also just coarsely chop the apples as well.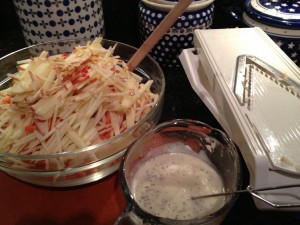 This is the mandoline slicer we used.  See the perfectly cut matchstick Honeycrisp apples in the bowl.  We were able to keep this cole slaw refrigerated for days without any noticeable browning from the apples.  It is delicious!!