John Chapman, (Sept 26, 1774 – March 11, 1845)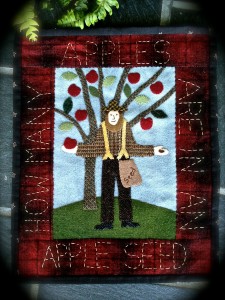 There is much folklore surrounding John Chapman or Johnny Appleseed as most of us know him.   We have learned much about this folk hero and "patron saint of horticulture" through Robert Price, Johnny Appleseed: Man and Myth (1967), and Michael Pollan , The Botany of Desire (2001). Subtitled "A Plant's-Eye View of the World.  John Chapman was certainly an eccentric frontiersman who was kind and gentle and traveled the areas of Pennsylvania, Ohio, Indiana planting over a hundred thousand square miles of apple orchards.  He tried to predict where settlers would go, precede them there planting apple seeds.  In 2-3 years he was able to sell these settlers small apple trees.  He was also a Christian man, planting the word of God along with seeds of apples and medicinal plants.  He was a barefooted vegetarian preferring to sleep outdoors and away from settlements, being one with nature.  Today we are thankful for Johnny Appleseed as a pioneer orchardist!
Happy Birthday Johnny Appleseed!