A lunchbox favorite is on the shelves at the Ivy Hill Farm Market.  Red Delicious are perfect for hand eating and school lunches!

        Red Delicious
Sweet and juicy. A favorite for snacks and salads. Best for eating fresh out of hand.
Last week we brought you Jeanne's Apple Cider Punch recipe.  This week it's a recipe from John Richard Martin, Sausage Burgers.  The Martin's have been making this recipe for at least 40 years and it is a crowd pleaser!  John Richard and Jeanne changed the dairy farm aspect of Ivy Hill Farm to swine production in the late 1960s.  That switch in focus brought the construction of additional buildings and a flurry of activities ensued in promoting a new production line.  John Richard was an active member of the Maryland Pork Producers and was the Pork Ambassador for that organization a number of years, traveling the state of Maryland with demonstrations on pork cuts and cooking preparation techniques.  We aren't sure if this recipe is one of his originals or if he picked it up somewhere.  We do know that his daughter, Karen, prepared this at the Maryland State Fair and the Pork Cook-Off Contest and came home with the Champion prize.
                       Photo on left,  John Richard Martin, promoting pork, 1990.
                  Photo on right, John Richard Martin and his son-in-law Charlie, grilling pork chops for a family dinner at the farm, 1980?
John Richard's Sausage Burgers
               
1 pound bulk pork sausage (John Richard always used sausage from Hoffman's or Horst's in Hagerstown, Md)
1 large apple, peeled, and chopped
1 egg, beaten
1 cup soft bread crumbs
1/4 cup honey
Mix together sausage, chopped apples, beaten egg and bread crumbs.  Form into patties and chill while preparing a grill.  Grill over charcoal (gas-grill) using a teaspoon of honey to caramelize the sausage on each side towards the end of cooking time.
Note:  Although these are fantastic on the grill,  Jeanne would often make them in a skillet too.  Watch carefully as the honey will burn.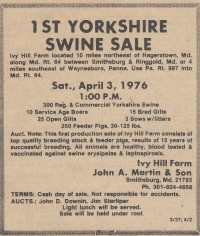 Remember that new "flurry of activities" that accompanied the swine production.  This ad from the 1st Ivy Hill Farm Swine Sale is an example.  In the spring of the year the present day farm market would be transformed into a livestock auction house complete with a food concession stand!  All the shelves and equipment were moved and pens with wire fencing and wood shavings would be set up for the sale of over 300 registered Yorkshire breeding stock and feeder pigs.  John Richard was the "Son"  of John A. Martin & Son.