During the summer, our farm market received a new exterior look…a bit of a face lift, so to speak.  Our creative design team came in with a vision and after some discussion over beverages (see earlier Fuzzy Navel post) we went to the drawing board.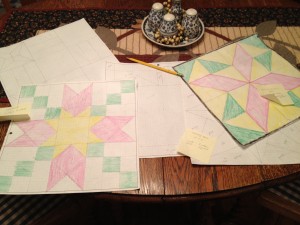 The barn quilt plan was developed, a trip to Lowe's followed and then the sweating started.  Ten days later we were ready for the new "reveal"

We were inspired by an article written in Southern Living several years ago about barn quilts in Georgia.  Researching the idea we discovered that the barn quilt movement had be going on for some time and can be found in many areas of the country.  The American Quilt Trail documents many of these beautiful works of art.  That was our launching point for our Barn Quilt collection: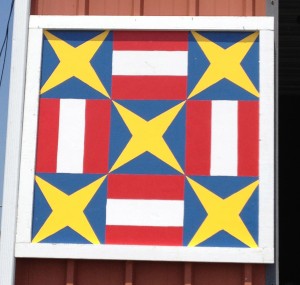 Stars and Stripes, 4 feet by 4 feet
                         This barn quilt honors all the men and women who defend our great nation, past, present and future.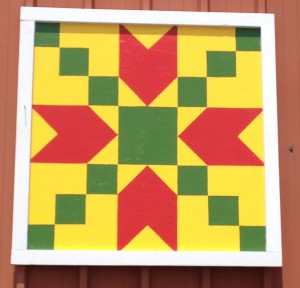 Arrowhead, 4 feet by 4 feet
We selected this quilt block since the first inhabitants of this parcel of land, now called Ivy Hill Farm, were Native Americans.
Several archaeological digs have been carried out on our farm, unearthing artifacts from their camps, many of them arrowheads.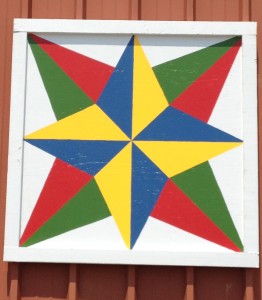 Blazing Star, 4 feet by 4 feet
The Martin matriarch, Jeanne, is very fond of this design.  In reality, her husband, John R.
Martin, expressed on their 55th wedding anniversary, that Jeanne was his "shining star."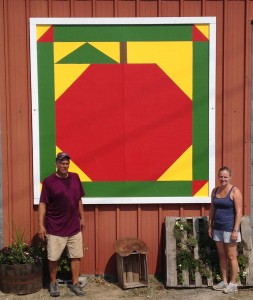 An Apple A Day, 8 feet by 8 feet
Apples are the main crop produced at Ivy Hill Farm with much of the farm acreage planted in orchards.
Shown in the photo are the designer (Karen)
and lead engineer (Bobby) of the Ivy Hill Farm barn quilt project.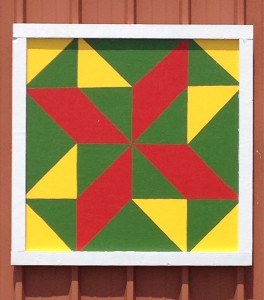 Barbara Fritchie Star, 4 ft. by 4 ft.
This barn quilt was selected to commemorate the Civil War and the history of those events in our area.  Barbara Fritchie was a resident of Frederick, Md.  According to one story, at the age of 95 she waved the Union flag in the middle of the street to block, or at least antagonize Confederate troops, as they passed though Frederick .  This event is the subject of John Greenleaf Whittier's poem of 1864, Barbara Frietchie:
"Shoot, if you must, this old gray head,
But spare your country's flag," she said.
A shade of sadness, a blush of shame,
Over the face of the leader came;
The nobler nature within him stirred
To life at that woman's deed and word;
"Who touches a hair of yon gray head
Dies like a dog! March on!" he said…..
We invite you to come see our new look!