A lunchbox favorite is on the shelves at the Ivy Hill Farm Market.  Red Delicious are perfect for hand eating and school lunches!

        Red Delicious
Sweet and juicy. A favorite for snacks and salads. Best for eating fresh out of hand.
Last week we brought you Jeanne's Apple Cider Punch recipe.  This week it's a recipe from John Richard Martin, Sausage Burgers.  The Martin's have been making this recipe for at least 40 years and it is a crowd pleaser!  John Richard and Jeanne changed the dairy farm aspect of Ivy Hill Farm to swine production in the late 1960s.  That switch in focus brought the construction of additional buildings and a flurry of activities ensued in promoting a new production line.  John Richard was an active member of the Maryland Pork Producers and was the Pork Ambassador for that organization a number of years, traveling the state of Maryland with demonstrations on pork cuts and cooking preparation techniques.  We aren't sure if this recipe is one of his originals or if he picked it up somewhere.  We do know that his daughter, Karen, prepared this at the Maryland State Fair and the Pork Cook-Off Contest and came home with the Champion prize.
                       Photo on left,  John Richard Martin, promoting pork, 1990.
                  Photo on right, John Richard Martin and his son-in-law Charlie, grilling pork chops for a family dinner at the farm, 1980?
John Richard's Sausage Burgers
               
1 pound bulk pork sausage (John Richard always used sausage from Hoffman's or Horst's in Hagerstown, Md)
1 large apple, peeled, and chopped
1 egg, beaten
1 cup soft bread crumbs
1/4 cup honey
Mix together sausage, chopped apples, beaten egg and bread crumbs.  Form into patties and chill while preparing a grill.  Grill over charcoal (gas-grill) using a teaspoon of honey to caramelize the sausage on each side towards the end of cooking time.
Note:  Although these are fantastic on the grill,  Jeanne would often make them in a skillet too.  Watch carefully as the honey will burn.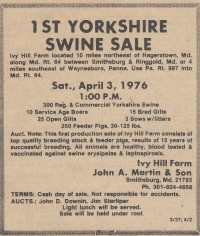 Remember that new "flurry of activities" that accompanied the swine production.  This ad from the 1st Ivy Hill Farm Swine Sale is an example.  In the spring of the year the present day farm market would be transformed into a livestock auction house complete with a food concession stand!  All the shelves and equipment were moved and pens with wire fencing and wood shavings would be set up for the sale of over 300 registered Yorkshire breeding stock and feeder pigs.  John Richard was the "Son"  of John A. Martin & Son.
Through the harvest season we are going to post a "Farm Favorite" recipe from various members of the Martin family.  Today we are featuring a quick, easy, delicious punch recipe made by the late Jeanne Martin.  This is the first apple season that the farm is without her presence.  But this cherished photo is how we like to remember John Richard & Jeanne Martin.   The experiences you have at Ivy Hill Farm today are a direct result of their vision, hard work, and loving family.

John Richard and Jeanne Martin
Maryland State Fair, 1975
Jeanne's Apple Cider Punch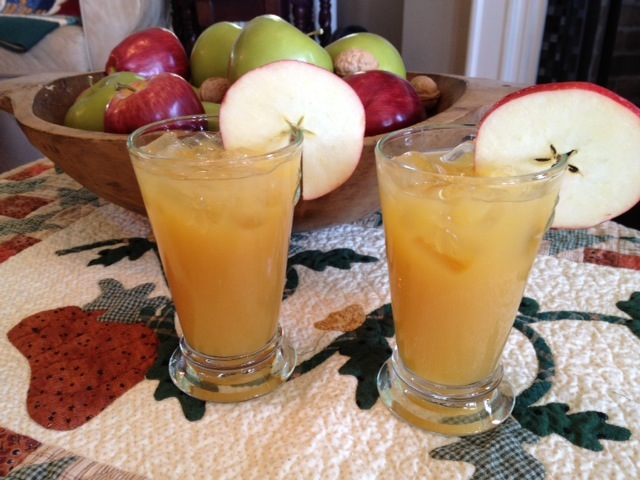 This beverage is served at nearly every gathering of the Martin Family.
1 gallon apple cider
12 ounce can frozen orange juice concentrate, undiluted
2 liters ginger ale, chilled
Mix all together, chill, and serve.
John Chapman, (Sept 26, 1774 – March 11, 1845)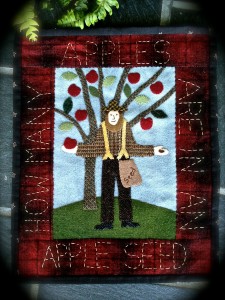 There is much folklore surrounding John Chapman or Johnny Appleseed as most of us know him.   We have learned much about this folk hero and "patron saint of horticulture" through Robert Price, Johnny Appleseed: Man and Myth (1967), and Michael Pollan , The Botany of Desire (2001). Subtitled "A Plant's-Eye View of the World.  John Chapman was certainly an eccentric frontiersman who was kind and gentle and traveled the areas of Pennsylvania, Ohio, Indiana planting over a hundred thousand square miles of apple orchards.  He tried to predict where settlers would go, precede them there planting apple seeds.  In 2-3 years he was able to sell these settlers small apple trees.  He was also a Christian man, planting the word of God along with seeds of apples and medicinal plants.  He was a barefooted vegetarian preferring to sleep outdoors and away from settlements, being one with nature.  Today we are thankful for Johnny Appleseed as a pioneer orchardist!
Happy Birthday Johnny Appleseed!
Apple harvest is in full swing and the crop is great!   These are the varieties that have been picked and are ready for purchase at our Farm Market:
     Early Fuji            Empire             Gala                Golden Delicious             Jonagold
Just like people, all apples have a personality of their own.

              Early Fuji
Very firm and unusually sweet. Red and green stripes. First discovered in Japan – a new favorite here.

                    Empire
McIntosh apple crossed with Red Delicious for unique taste. Crisp and excellent for snacks, desserts or salads.

            Gala
Sweet and very flavorful with orange-striped skin and yellow flesh. A favorite for snacks and salads.

            Golden Delicious
Sweet and mellow. Excellent for snacking, salads and all cooking purposes.

             Jonagold
Blend of tart Jonathon and sweet Golden Delicious. One of the world's most preferred varieties for flavor.
For more information about Maryland apples, we invite you to view the Apple Promotion Board of Maryland website, www.marylandapples.com
All good things come to an end and so goes summer!  Today is the first day of autumn and it officially begins at 4:44 pm today.
We are bringing in the season in style with the Blessing of the Apple Crop and First Cider Toast Party.  Join us today, September 22, from 12:30pm – 2:30 pm for our celebration.
There is a little crispness in the air indicating the change of seasons and it's Football Season too!  Enjoy the games with this easy to prepare and delicious combination –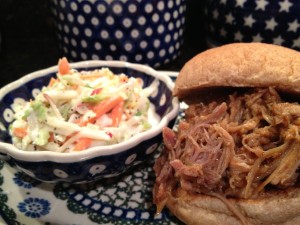 Apple Butter BBQ Pulled Pork and Honeycrisp Cole Slaw
Easy Slow Cooker Pulled Pork

2 medium yellow onion, thinly sliced
4 garlic cloves, thinly sliced
1 cup chicken stock or low-sodium chicken broth
1 tablespoon packed dark brown sugar
1 tablespoon chili powder
1 tablespoon kosher salt
1/2 teaspoon ground cumin
1/4 teaspoon ground cinnamon
1 (4.5 to 5 lb) boneless or bone-in pork shoulder, twine or netting removed
2 cups Ivy Hill Farm Apple Butter Barbecue Sauce
Place the onions and garlic in an even layer in the slow cooker and pour in the stock or broth.  Combine the sugar, chili powder, measured salt, cumin, and cinnamon in a small bowl.  Pat the pork dry with paper towels.  Rub the spice mixture all over the pork and place the meat on top of the onions and garlic.  Cover and cook until the pork is fork tender, about 6-8 hours on high or 8-10 hours on low.
Turn off the slow cooker and remove the pork to a cutting board.  Set a fine-mesh strainer over a medium heatproof bowl.  Pour the onion mixture from the slow cooker through the strainer and return the solids to the slow cooker.  Set the strained liquid aside.
If the pork has a bone, remove and discard it.  Using 2 forks, shred the meat into bite-sized pieces, discarding any large pieces of fat.  Return the shredded meat to the slow cooker, add Ivy Hill Farm Apple Butter Barbecue Sauce and mix to combine.    Season as needed.  Serve on a bun with additional barbecue sauce on the side.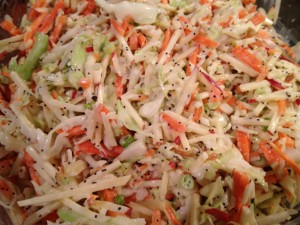 Honeycrisp Cole Slaw
adapted from Wolfgang Puck's Apple Coleslaw @ foodnetwork.com
1/4 cup apple cider vinegar
1 cup mayonnaise
1-2 tablespoons poppy seeds
1/3 cup honey
1 1/2 teaspoons kosher salt
1 teaspoon freshly ground black pepper
1 medium cabbage, cored, finely shredded ( we used a bag of preshredded, packaged coleslaw mix)
2 large carrots, peeled, julienned ( again, a bag of preshredded, packaged carrots)
1 bunch green onions, thinly sliced
4 Honeycrisp apples, peeled, cored and julienned (Fuji works too, see note at end of recipe about cutting apples for this recipe)
Prepare the Poppy Seed Dressing – In a medium bowl, combine all the ingredients together until well blended.  Set aside.
Prepare the Cole Slaw – In a large bowl, combine the cabbage, carrots, green onion and apples.  Pour in the reserved dressing and toss until well blended.  Refrigerate at least 1 hour before serving, mixing the salad at least once to evenly distribute the dressing.
Notes:  We used a mandoline slicer (V-slicer) to julienne the apples quickly and easily, saving lots of time.  You can also just coarsely chop the apples as well.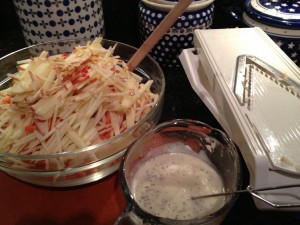 This is the mandoline slicer we used.  See the perfectly cut matchstick Honeycrisp apples in the bowl.  We were able to keep this cole slaw refrigerated for days without any noticeable browning from the apples.  It is delicious!!
We have Honey Crisp, early Golden Delicious and Gala ready for those school lunch boxes!
Where did the summer go?  Hard to believe it's September!  We still have some of the late varieties of peaches available but don't wait too long or you will miss them.  It's time to move on now that it's September.  Apples are beginning to ripen.   The pumpkins in the patch are growing everyday and will be ready in October when we open the pick your own pumpkin patch.

Save the date!  Sunday, September 22 is a day of celebration at Ivy Hill Farm!  Please join us at our Blessing of the Crop and First Cider Press Toast Celebration!!  We are bringing in the autumn harvest season in style!  Music from 12:30 pm – 2:30 pm with a Cider Toast at 1:15 pm.
It's unanimous!!  Our family has voted this as our favorite summer salad!!
A quick walk through the Ivy Hill Farm market and we picked up most of the ingredients for this delicious salad.
Stop by for your ingredients and try it today…
From Our Farm to Your Family!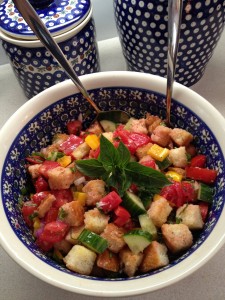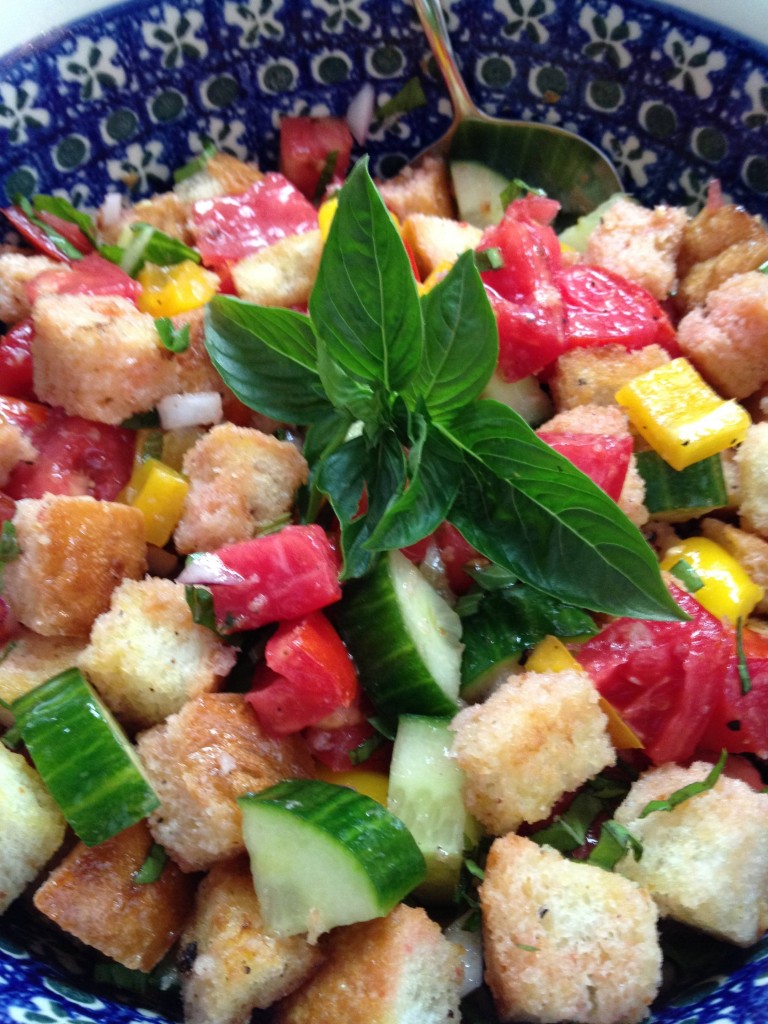 Farm Market Salad
(Barefoot Contessa's Panzanella Salad)
Ingredients
3 tablespoons good olive oil
1 small French bread or boule, cut into 1-inch cubes (6 cups)
1 teaspoon kosher salt
2-3 large, ripe tomatoes, cut into 1-inch cubes
1 hothouse cucumber or 2 regular cucumbers, unpeeled, seeded and sliced 1/2 inch thick
1 red bell pepper, seeded and cut into 1-inch cubes
1 yellow bell pepper, seeded and cut into 1-inch cubes
1/2 red onion, cut in 1/2 and thinly sliced
20 large basil leaves, coarsely chopped
For the vinaigrette:
1 teaspoon finely minced garlic
1/2 teaspoon Dijon mustard
3 tablespoons Champagne vinegar
1/2 cup good olive oil
1/2 teaspoon kosher salt
1/4 teaspoon freshly ground black pepper
Directions:
Heat the oil in a large saute pan.  Add the bread cubes and salt; cook over low to medium heat, tossing frequently, for 10 minutes, or until nicely browned.  Add more oil as needed.
For the vinaigrette, whisk all the ingredients together.
In a large bowl, mix the tomatoes, cucumber, red pepper, yellow pepper, red onion,  and basil.  Add the bread cubes and toss with the vinaigrette.  Season with salt and pepper.  Serve, or allow the salad to sit for about 30 minutes for the flavors to blend.
*  Ivy Hill Farm Notes –  The croutons are essential so don't skimp or cheat on that step.  The vinaigrette is perfect made with Champagne vinegar, available in many grocery stores.  If you can't find it and must substitute, use a good quality white wine vinegar.  If red or yellow bell peppers are not available, green peppers work as well.
Adapted from, Barefoot Contessa's Parties, Panzanella Salad
Family farms, like IVY HILL FARM, are a team sport.  Meet our teams during the 2013 Peach Season!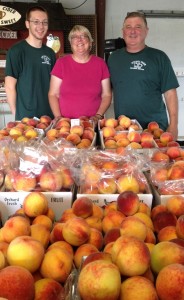 The Ivy Hill Farm Home Team
Justin, Karen, Steve (CEO), Barb (on loan to the travel team)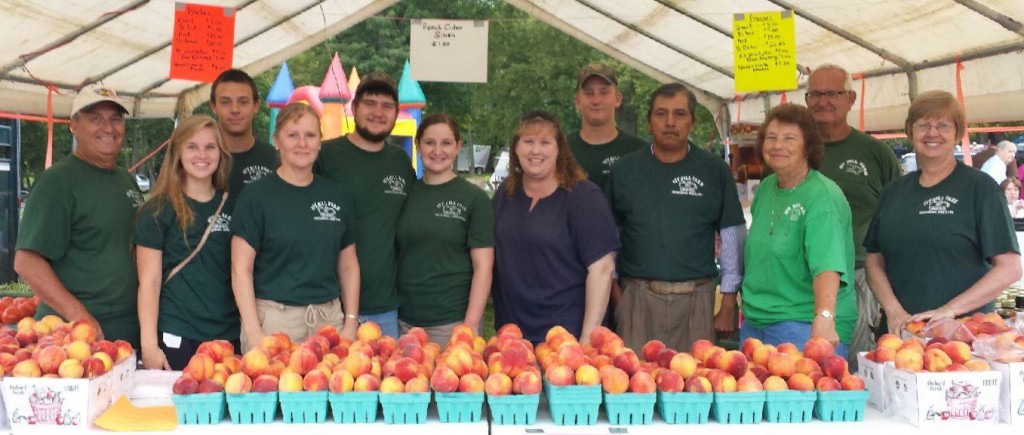 The Ivy Hill Farm Travel Team
From left to right:  Larry, Dana, Davis, Karen, Tim (Board of Directors), Kasie, Lisa, Justin (Supervisor in Training), Lorenzo, Jean, Harold, and Barb (Market Manager)
     The beautiful fresh, young, spring colors in the landscape are renewing to the spirit after the winter months.  Blossom time in the orchard has passed, the bees have completed their work and now we wait for the harvest bounty (fingers are crossed.)  The greenhouses are full with beautiful patio pots, hanging pouches and baskets for Mother's Day.   Annual bedding plants and vegetables fill the greenhouses and are ready for planting in your garden.  The beauty of this season however is shaded for Ivy Hill Farm as we continue to mourn the loss of our beloved family matriarch, mother and grandmother.  Jeanne Martin passed away on Feb. 17, 2013 and although she's no longer at the helm of Ivy Hill Farm we continue to feel her presence and remember her guidance.  On this Mother's Day and all the days that follow, we miss her smile, her laugh, her protection, her counsel.  To all mothers, thank you for shining your everlasting light on your families. 
Happy Mother's Day from Ivy Hill Farm!
Jeanne L Martin (Aug. 29, 1934 – Feb. 17, 2013)