Can you tell we have had a busy summer?  We haven't had a chance to even update the website!
Peach season is over and although the quality of the crop was good,  we certainly lacked the quantity thanks to Mother Nature's icy touch last spring.  We had a few, though, to make these tasty beverages and we are sharing with you our coveted recipe.  Our recipe for Ivy Hill Farm Fuzzy Navels has been in development for nearly a decade.  Each year we try to improve on the recipe but we honestly don't think we need to tweak it anymore.  We had a family meeting to decide if we should release this treasured recipe or to keep it a family secret.  After a unanimous vote the family is sharing our recipe with you.  Enjoy this sweet glass of fuzzy peach velvet deliciousness…until next season!!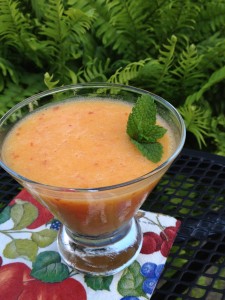 Ivy Hill Farm Fuzzy Navels
3 ripe, pitted peaches (peeled or unpeeled)
2 Tablespoons frozen orange juice concentrate, undiluted
1/4 cup sugar (or less, to taste)
1/4 cup peach schnapps
1/2 cup light rum
ice
Place all ingredients in a blender and give it a whirl until smooth and velvety.  To make a non-alcoholic version of this drink, substitute Sprite or 7-Up for liquid ingredients.  Enjoy!!
Show your mother how much you appreciate her with a gift that will keep on giving throughout the growing season.  Happy Mother's Day!!
The greenhouses are beautiful and just in time for Mother's Day!  Hurry to the farm for Mother's Day gifts.  You can choose from a great selection of flowers, hanging baskets and pouches, and a variety of lovely patio containers.  While you are here, don't forget to pick up your vegetable and herb plants.  It's time to get those gardens planted too!
We are ready…are you?
The month of May signals warmer night temperatures and the disappearance of frost, the school year preparing to end, and time to get your hands dirty by planting your vegetable and flower gardens.  Our greenhouses at Ivy Hill Farm are full and ready for your garden shopping list.  We have a fabulous inventory of beautiful flowering annuals, as well as perennials and a wonderful selection of garden vegetables.  There's nothing like being welcomed into your home by gorgeous flowers at the front door or freshly cut flowers from your flower beds on the dining table along side a fresh harvest from your very own vegetable garden.  Come visit us soon!  It's prime time for planting!
The greenhouses at Ivy Hill Farm are filled to the brim.  We are ready for your Mother's Day shopping with beautiful blooming hanging baskets, patio pots, and hanging pouches.  These colorful flowers will certainly brighten Mother's Day.  Our plants are available at Ivy Hill Farm, Smithsburg, MD and will also be available for your convenience at Mountain Valley  Farm Market at the intersection of Route 64 & Route 66, next to the AC&T in Cavetown, MD.  Happy Mother's Day!
Farm life is getting busy as we begin the 2012 growing season!  Spring is a beautiful time of the year here at Ivy Hill Farm.  These are some photos we took at the farm over the Easter weekend.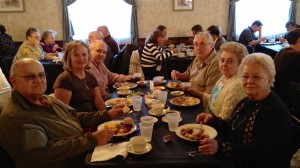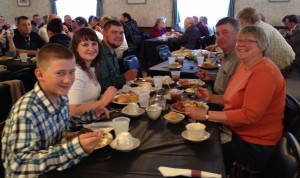 The Martin's with extended family gather for Easter dinner at Savoy, Waynesboro, PA
New additions to the Farm family.
Photos from the orchard this weekend…wish we could insert the fragrance into the photo!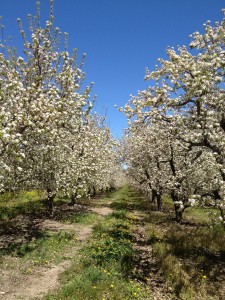 Can you believe this weather in March?  Although it's nice to have such an early, warm spring, we farmers are concerned about the effect this weather will have on the crops.  Cherry blossoms are over, peaches are blooming, apples are pushing and on a much earlier timeline than desired.  We will be saying prayers that a hard frost says away during this delicate time in the orchard.
The work has begun in the greenhouses.  Seeds are being planted and on the germination table with transplanting on the schedule next.  We anticipate greenhouse sales to begin around the second or third week of April with early vegetables, pansies and perennials.
Maryland Day commemorates March 25, 1634. On that day, settlers disembarked from two small sailing ships – the Ark and the Dove – on to Maryland soil. At St. Clement's Island, they landed in what is now St. Mary's County, Maryland.
The Maryland settlement was authorized under the charter granted June 20, 1632, by Charles I of England to Cecilius Calvert, Baron of Baltimore. Traveling on the Ark to the new colony, Leonard Calvert, Lord Baltimore's brother, led the Maryland settlers. The purpose of their voyage was not to discover new lands but to settle them. And, as it happened, they journeyed from island to island to find their new world.1
Departing on November 22, 1633, these travelers (about 140 in number) set off from Cowes on the English Isle of Wight. Three days later a severe storm tossed them relentlessly about at sea. The morning after, the Dove (the smaller ship) could not be seen. The Ark continued its journey, following the European coast south to the Fortunate (now Canary) Islands. From the Canaries, the Ark sailed due west across the Atlantic, touching land at the island of Barbadoes in the West Indies on January 3, 1633/4. There, the ship's weary travelers stayed three weeks replenishing provisions, and there the Dove reappeared, having weathered the Atlantic voyage alone. At other Caribbean isles they also landed, and then sailed north. They reached Virginia on February 27th, gathered more supplies, and navigated Chesapeake Bay north to the mouth of the Potomac by March 3rd.
As these voyagers approached southern Maryland shores in March 1634, their ships alarmed Native Americans, who sent alerts with huge signal fires. To meet the Conoy Indian chief and calm Indian fears, Leonard Calvert on the Dove sailed to Piscataway. There, they negotiated a peaceable accord, and then Calvert sailed back down the Potomac off present-day St. Mary's County. On March 25th, the English settlers climbed down from the Ark and the Dove and rowed to the island which they named St. Clement's. They held a day of thanksgiving for their safe voyage end, and we continue to commemorate it as Maryland Day.
The formal observance of Maryland Day began in 1903 when the State Board of Education chose one day in the school year to be devoted to Maryland history. March 25th was named Maryland Day by the Board. In 1916, the General Assembly authorized Maryland Day as a legal holiday (Chapter 633, Acts of 1916).
Source:  http://www.msa.md.gov/msa/mdmanual/01glance/html/mday.html
Yesterday was clean the refrigerator day!  What an annoying task!  Among the discoveries in the recesses of the frig (many of them worthy of a science fair project) were 2 large, once beautiful but now slightly shriveled Golden Delicious apples.  This is what we did….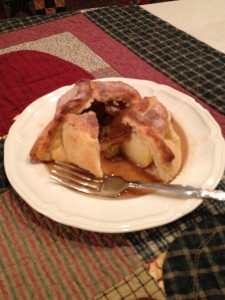 Baked Apple Dumplings with Cider Sauce
We like this recipe because the dumpling pastry wrapping the apple is very light and crisp.  It's more like a thin, sweetened biscuit than a heavy pie-like pastry.  The large apples are cut in half as well making them easier to cook and smaller in size.
Warm from the oven with a little scoop of vanilla ice cream…mmmm, perfect for a cold, damp  January evening.  Check out the recipe on our Goodies/ Recipe page!