Ivy Hill Farm Events
November 11 and 12, 2017
Veteran's Appreciation Weekend
Free Cider Doughnut to all Veterans
November 24, 25, and 26, 2017
Shop Small Business Weekend
Fruit baskets and Claxton Fruit Cakes available.
December 9 and 10, 2017
Christmas on the Farm Weekend
Ho! Ho! Ho!
The 2017 Farm Festival is just around the corner. Fun for the entire family. Apples, fresh cider, pumpkins and gourds, jellies and jams, apple butter, mums.
Saturday, October 14, 2017. 9 am to 5 pm
Sunday, October 15,2017. 11 am to 5 pm
Join us for a great time on the farm!
Join us for
Family and Farm Fun for All Ages
October 8, 2016  9 am till 5 pm
October 9, 2016  11am till 5 pm
Sandwiches, soup, pies, popcorn and more!
Freshly Pressed Apple Cider and Apple Cider Slush
Fresh and Juicy Ivy Hill Farm Apples
Fresh Fruit and Vegetables
Fall Pumpkins and Gourds
Flowering Mums
Farm Animal Petting Zoo
Kids Zone and Crafts
Special Musical Guest each day  Noon until 2 pm
Don't miss this great time down at Ivy Hill Farm!
We are preparing for the holidays and we invite you to join us for
Christmas on the Farm
December 12 & 13, 2015
9 am – 5 pm
With a very special guest appearance from 1 – 3 pm each day
Santa Claus will be here to listen to your wish list!
Share your holiday spirit with us
fresh apple cider, fresh Florida citrus, apple cider slushies, egg nog, cider doughnuts, warm apple cider and apple slices with drizzled warm caramel topping.
We have prepared a variety of holiday gift ideas, prepackaged and ready for you!
Please join us for a fun filled weekend!  All are welcome…naughty or nice!
Please join us as we celebrate the
38th Annual Ivy Hill Farm Festival
October 10,2015   9 am – 5 pm
October 11, 2015  11 am – 5 pm
Family and Farm Fun for All Ages
Farm Animal Petting Zone, Fresh Fruit and Vegetables, Fall Pumpkins and Flowering Mums,
Freshly Pressed Refreshing Apple Cider, Kids Zone and Crafts
Special Musical Guests, Strung Tight  12pm – 2pm each day
On the Horizon:
The 5th Annual Turkey Tasting hosted by Corner Oaks Farms, LLC at Ivy Hill Farm on Saturday October 17, 2015 Noon – 2 pm.  RSVP by October 10 to 301-432-6976.  Mike and Lisa will be taking orders for your holiday turkey!
October 25 and 26, 2014
Pumpkin Patch Party
featuring Kasie's Kids Zone
and pumpkins of all shapes and sizes.
November 8 and 9, 2014
Customer Appreciation Weekend
November 29, 2014
Small Business Day
Support local business and family farms!
Christmas on the Farm
December 13 and 14, 2014
The time has arrived.  The morning temperatures are cooler and the days are getting shorter.  The signs are obvious.
It is apple harvest time and we are preparing for the
2nd Annual Apple Cider Press Party
Sunday, September 21, 2014
1 pm – 3 pm
2 pm Cider Toast
Join us for lots of fun, frolic and the "fellers" performing live bluegrass music,
Marv Ashby & High Octane
We look forward to seeing ya'll there!
As we prepare for Thanksgiving we, at Ivy Hill Farm, are so thankful for our customers! To show our appreciation we have special events for you!
Customer Appreciation Weekend
November 9 & 10, 2013
Free Popcorn and Gifts for the Kids
Samples of Fresh Apple Cider and Cider Slush
Hot Apple Cider
Ivy Hill Apple Slices with Warm Caramel Drizzle
Cotton Candy
Cider Doughnuts
Our Customers are one of our many Blessings!  Thank You!
Ivy Hill Farm Festival 2013
Join us for Food, Fun, and Family at the Farm
Saturday, October 12  9am – 5 pm
Sunday, October 13  11am – 5 pm
It's time to celebrate our favorite harvest season!  Visit Ivy Hill Farm this weekend and share in these fabulous events and offerings!

Freshly pressed apple cider and delicious, crisp and juicy apples

Apple butter boiling in an antique copper kettle
Food concession stand
         Mouth watering pies  
                                  Hayrides for the family                              
Interactive kids zone
          Farm animals             
Pick Your Own Pumpkin Patch
Craft Vendors
Special Musical Guests "Strung Tight: Sunday 12:30 pm -2:30 pm









A lunchbox favorite is on the shelves at the Ivy Hill Farm Market.  Red Delicious are perfect for hand eating and school lunches!

        Red Delicious
Sweet and juicy. A favorite for snacks and salads. Best for eating fresh out of hand.
Last week we brought you Jeanne's Apple Cider Punch recipe.  This week it's a recipe from John Richard Martin, Sausage Burgers.  The Martin's have been making this recipe for at least 40 years and it is a crowd pleaser!  John Richard and Jeanne changed the dairy farm aspect of Ivy Hill Farm to swine production in the late 1960s.  That switch in focus brought the construction of additional buildings and a flurry of activities ensued in promoting a new production line.  John Richard was an active member of the Maryland Pork Producers and was the Pork Ambassador for that organization a number of years, traveling the state of Maryland with demonstrations on pork cuts and cooking preparation techniques.  We aren't sure if this recipe is one of his originals or if he picked it up somewhere.  We do know that his daughter, Karen, prepared this at the Maryland State Fair and the Pork Cook-Off Contest and came home with the Champion prize.
                       Photo on left,  John Richard Martin, promoting pork, 1990.
                  Photo on right, John Richard Martin and his son-in-law Charlie, grilling pork chops for a family dinner at the farm, 1980?
John Richard's Sausage Burgers
               
1 pound bulk pork sausage (John Richard always used sausage from Hoffman's or Horst's in Hagerstown, Md)
1 large apple, peeled, and chopped
1 egg, beaten
1 cup soft bread crumbs
1/4 cup honey
Mix together sausage, chopped apples, beaten egg and bread crumbs.  Form into patties and chill while preparing a grill.  Grill over charcoal (gas-grill) using a teaspoon of honey to caramelize the sausage on each side towards the end of cooking time.
Note:  Although these are fantastic on the grill,  Jeanne would often make them in a skillet too.  Watch carefully as the honey will burn.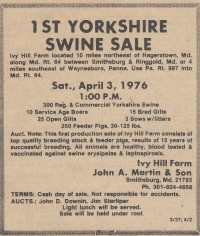 Remember that new "flurry of activities" that accompanied the swine production.  This ad from the 1st Ivy Hill Farm Swine Sale is an example.  In the spring of the year the present day farm market would be transformed into a livestock auction house complete with a food concession stand!  All the shelves and equipment were moved and pens with wire fencing and wood shavings would be set up for the sale of over 300 registered Yorkshire breeding stock and feeder pigs.  John Richard was the "Son"  of John A. Martin & Son.