Jeanne's Apple Cider Punch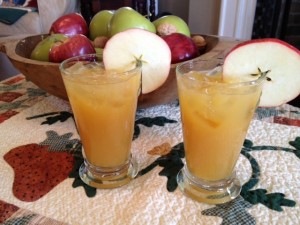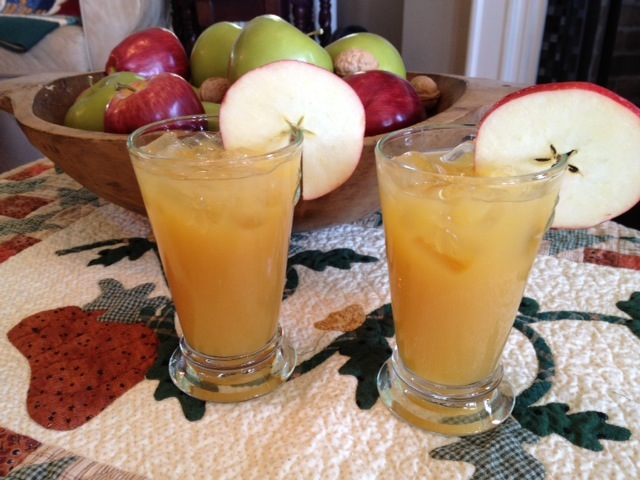 This beverage is served at nearly every gathering of the Martin Family.
1 gallon apple cider
12 ounce can frozen orange juice concentrate
2 liters ginger ale, chilled
Mix all together and serve.
John Richard's Sausage Burgers
               
1 pound bulk pork sausage (John Richard always used sausage from Hoffman's or Horst's in Hagerstown, Md)
1 large apple, peeled, and chopped
1 egg, beaten
1 cup soft bread crumbs
1/4 cup honey
Mix together sausage, chopped apples, beaten egg and bread crumbs.  Form into patties and chill while preparing a grill.  Grill over charcoal (gas-grill) using a teaspoon of honey to caramelize the sausage on each side towards the end of cooking time.
Note:  Although these are fantastic on the grill,  Jeanne would often make them in a skillet too.  Watch carefully as the honey will burn.
* This recipe was featured in the Hagerstown Magazine, Sept/Oct 2014 edition
Steve's Apple Crisp
10 to 15 apples, peeled and sliced
1/2 cup cinnamon sugar
1/2 to 1 cup apple cider (orange juice may be used too)
Topping:
2 cups flour
2 cups sugar
2 sticks cold margarine or butter
Preheat oven to 400 degrees.  Layer sliced apples into an ungreased 13 X 9 X 2 inch pan.  Sprinkle cinnamon sugar in between each layer.  Use enough cinnamon sugar to cover each layer.  Once apples are to the top of the pan, cover with a final layer of cinnamon sugar, then pour apple cider over the entire mixture.
Mix the 3 topping ingredients together with a mixer until crumbly.  Cover the apples with the topping.  Bake for 45 minutes.  Cool and serve.
Note:  For the best apple flavor use a mixture of apple varieties (sweet, semi-sweet, and tart apples) and apple cider.  It makes a dessert with the most wonderful apple flavor!  It can't be beat with a scoop of vanilla or cinnamon ice cream.
Baked Apple Dumplings with Cider Sauce
Recipe from Cook's Country, October/November 2009
Dough
2 1/2 cups all-purpose flour
3 tablespoons sugar
2 teaspoons baking powder
3/4 teaspoon salt
10 tablespoons unsalted butter, cut into 1/2 inch pieces and chilled
5 tablespoons vegetable shortening, cut into 1/2 inch pieces and chilled (we used Crisco)
3/4 cup cold buttermilk
Apple Dumplings
6 tablespoons sugar
1 teaspoon ground cinnamon
3 tablespoons unsalted butter, softened
3 tablespoons golden raisins, chopped
4 Golden Delicious apples
2 egg whites, lightly beaten
Cider Sauce (see note at end of recipe)
1 cup apple cider
1 cup water
1 cup sugar
1/2 teaspoon ground cinnamon
2 tablespoons unsalted butter
1 tablespoon lemon juice
Make Dough:  Process flour, sugar, baking powder, and salt in food processor until combines.  Scatter butter and shortening over flour mixture and pulse until mixture resembles wet sand.  Transfer to bowl.  Stir in buttermilk, until dough forms.  Turn out onto lightly floured surface and knead briefly until dough is cohesive.  Press dough into 8 by 4 inch rectangle.  Cut in half, wrap each half tightly in plastic, and refrigerate until firm, about 1 hour.
Prep apples:   Adjust oven rack to middle position and heat oven to 425 degrees.  Combine sugar and cinnamon in small bowl.  In second bowl, combine butter, raisins, and 3 tablespoons cinnamon sugar mixture.  Peel apples and halve through equator.  Remove core with a melon baller being careful not to pierce through the end.    Pack butter mixture into each apple half.  (Refer to photos)
Assemble Dumplings:  On lightly floured surface, roll each dough half into 12 inch square.  Cut each 12 inch square into 4 6-inch squares.  Working one at a time, lightly brush edges of dough square with egg white and place apple, cut side up, in center of each square.  Gather dough one corner at a time on top of apple, crimping edges to seal.  Using a paring knife, cut vent hole in top of each dumpling.
Finish apples:  Line a rimmed baking sheet with parchment paper.  Arrange dumplings on prepared baking sheet, brush tops with egg white and sprinkle with remaining cinnamon sugar.  Bake until dough is golden brown and juices are bubbling, 20 to 25 minutes.  Cool on baking baking sheet 10 minutes.  Serve with Cider Sauce.
Cider Sauce:  Bring cider, water, sugar and cinnamon to simmer in saucepan and cook over medium-high heat until thickened and reduced to 1 1/2 cups, about 15 minutes.  Off heat, whisk in butter and lemon juice.  Drizzle over dumplings to serve.
Note from the Ivy Hill Farm test kitchen:  This above sauce is good but rather sweet.  We would suggest using 2 cups of cider, omit the water, and adjust the sugar to your desired sweetness.  Our cider is so tasty and sweet you may need very little additional sugar in the sauce.
Ivy Hill Farm Fuzzy Navels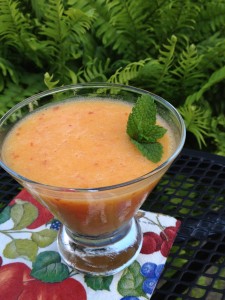 3 ripe, pitted peaches (peeled or unpeeled)
2 Tablespoons frozen orange juice concentrate, undiluted
1/4 cup sugar (or less, to taste)
1/4 cup peach schnapps
1/2 cup light rum
ice
Place all ingredients in a blender and give it a whirl until smooth and velvety.  To make a non-alcoholic version of this drink, substitute Sprite or 7-Up for liquid ingredients.  Enjoy!!
Farm Market Salad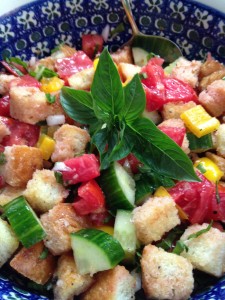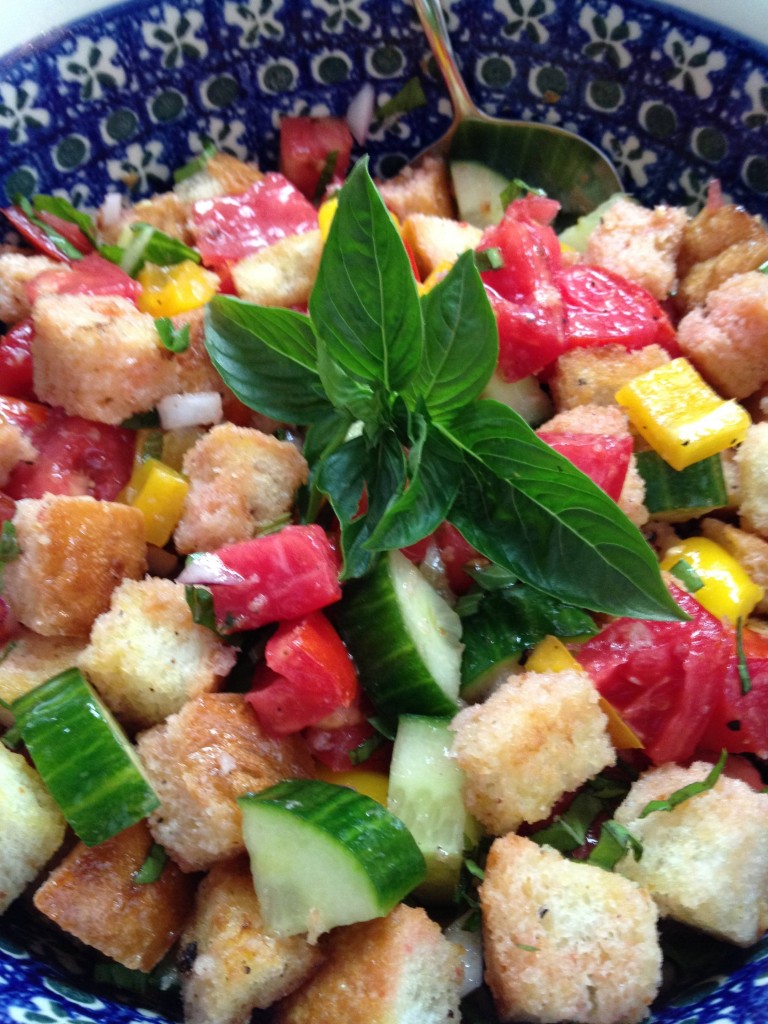 (Barefoot Contessa's Panzanella Salad)
Ingredients
3 tablespoons good olive oil
1 small French bread or boule, cut into 1-inch cubes (6 cups)
1 teaspoon kosher salt
2-3 large, ripe tomatoes, cut into 1-inch cubes
1 hothouse cucumber or 2 regular cucumbers, unpeeled, seeded and sliced 1/2 inch thick
1 red bell pepper, seeded and cut into 1-inch cubes
1 yellow bell pepper, seeded and cut into 1-inch cubes
1/2 red onion, cut in 1/2 and thinly sliced
20 large basil leaves, coarsely chopped
For the vinaigrette:
1 teaspoon finely minced garlic
1/2 teaspoon Dijon mustard
3 tablespoons Champagne vinegar
1/2 cup good olive oil
1/2 teaspoon kosher salt
1/4 teaspoon freshly ground black pepper
Directions:
Heat the oil in a large saute pan.  Add the bread cubes and salt; cook over low to medium heat, tossing frequently, for 10 minutes, or until nicely browned.  Add more oil as needed.
For the vinaigrette, whisk all the ingredients together.
In a large bowl, mix the tomatoes, cucumber, red pepper, yellow pepper, red onion,  and basil.  Add the bread cubes and toss with the vinaigrette.  Season with salt and pepper.  Serve, or allow the salad to sit for about 30 minutes for the flavors to blend.
*  Ivy Hill Farm Notes –  The croutons are essential so don't skimp or cheat on that step.  The vinaigrette is perfect made with Champagne vinegar, available in many grocery stores.  If you can't find it and must substitute, use a good quality white wine vinegar.  If red or yellow bell peppers are not available, green peppers work as well.
Adapted from, Barefoot Contessa's Parties, Panzanella Salad
Apple Butter BBQ Pulled Pork and Honeycrisp Cole Slaw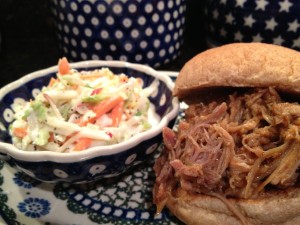 Easy Slow Cooker Pulled Pork

2 medium yellow onion, thinly sliced
4 garlic cloves, thinly sliced
1 cup chicken stock or low-sodium chicken broth
1 tablespoon packed dark brown sugar
1 tablespoon chili powder
1 tablespoon kosher salt
1/2 teaspoon ground cumin
1/4 teaspoon ground cinnamon
1 (4.5 to 5 lb) boneless or bone-in pork shoulder, twine or netting removed
2 cups Ivy Hill Farm Apple Butter Barbecue Sauce
Place the onions and garlic in an even layer in the slow cooker and pour in the stock or broth.  Combine the sugar, chili powder, measured salt, cumin, and cinnamon in a small bowl.  Pat the pork dry with paper towels.  Rub the spice mixture all over the pork and place the meat on top of the onions and garlic.  Cover and cook until the pork is fork tender, about 6-8 hours on high or 8-10 hours on low.
Turn off the slow cooker and remove the pork to a cutting board.  Set a fine-mesh strainer over a medium heatproof bowl.  Pour the onion mixture from the slow cooker through the strainer and return the solids to the slow cooker.  Set the strained liquid aside.
If the pork has a bone, remove and discard it.  Using 2 forks, shred the meat into bite-sized pieces, discarding any large pieces of fat.  Return the shredded meat to the slow cooker, add Ivy Hill Farm Apple Butter Barbecue Sauce and mix to combine.    Season as needed.  Serve on a bun with additional barbecue sauce on the side.
Honeycrisp Cole Slaw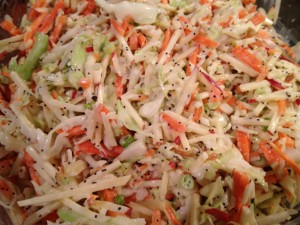 adapted from Wolfgang Puck's Apple Coleslaw @ foodnetwork.com
1/4 cup apple cider vinegar
1 cup mayonnaise
1-2 tablespoons poppy seeds
1/3 cup honey
1 1/2 teaspoons kosher salt
1 teaspoon freshly ground black pepper
1 medium cabbage, cored, finely shredded ( we used a bag of preshredded, packaged coleslaw mix)
2 large carrots, peeled, julienned ( again, a bag of preshredded, packaged carrots)
1 bunch green onions, thinly sliced
4 Honeycrisp apples, peeled, cored and julienned (Fuji works too, see note at end of recipe about cutting apples for this recipe)
Prepare the Poppy Seed Dressing – In a medium bowl, combine all the ingredients together until well blended.  Set aside.
Prepare the Cole Slaw – In a large bowl, combine the cabbage, carrots, green onion and apples.  Pour in the reserved dressing and toss until well blended.  Refrigerate at least 1 hour before serving, mixing the salad at least once to evenly distribute the dressing.
Notes:  We used a mandoline slicer (V-slicer) to julienne the apples quickly and easily, saving lots of time.  You can also just coarsely chop the apples as well.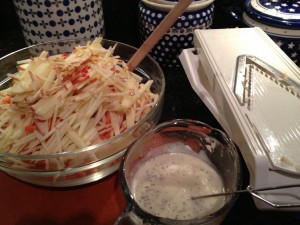 This is the mandoline slicer we used.  See the perfectly cut matchstick Honeycrisp apples in the bowl.  We were able to keep this cole slaw refrigerated for days without any noticeable browning from the apples.  It is delicious!!